OK so this is coming a little over 24 hours late, however there was so much happening before, during and after the Supe Bowl it takes a while to digest it all. Not to mention the overload of chips and white cheddar bacon dip too boot
The game itself had hockey fans tossing memes comparing schedules between the two to get to a championship too others more worried about the office pool yet to me, it was fun watching the politicos murmuring all week long and during the game
Look I admit that I don't know one Rihanna song from another, maybe that's because my XM/Sirius is locked on Heavy Metal/Hair Band/Classic Rock but damn, that was a spectacular show and I'm one to watch about 3 minute of a Super Bowl Halftime show.
Of course, there are folks crying foul for the dance moves being on the mature side and shouldn't be shown due to the youth watching, but ya know they said the same about Chubby Checker's "The Twist." Elvis Presley's pelvic gyrations and anything shown on MTV when it played music videos.
But the bitchfest isn't only about a dance orgy, nope ya gotta roll back to the opening festivities and the national anthem… or should i say the 2 national anthems.
Yes, the national anthem is played (as it should) and all folks capable should rise, shut their mouths and show respect yet there's gotta be two?
Some may say the NFL is kowtowing to the likes of Black Lives Matter, just capitalizing on the constant talk of racism to sell a few more jerseys and paint a different of its own past errors.
"Lift Every Voice and Sing," just in case you didn't know the actual name of the song because it's easier to say "Black National Anthem" for the ignorant crowd, was written as a poem about Abraham Lincoln's birthday in 1899 by James Weldon Johnson as a sign of hope for Black Americans in a time when Racism (much like today) was still a major barrier.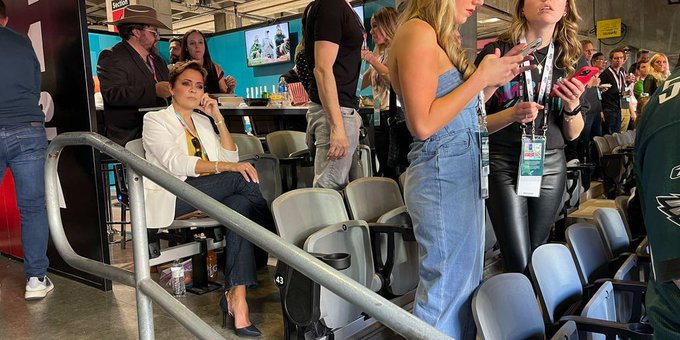 The Super Bowl is the heaviest one-night affair of patriotism outside of the 4th of July on the calendar. Ol' Glory flying everywhere, US Military flyovers, "America the Beautiful" and "Star Spangled Banner" belted out by performers who are usually critiqued by people who couldn't carry a tune and we're fighting over history of poem and what it actually stands for.
It is interesting that the NFL is the only pro sport that does play "Lift Every Voice and Sing," yet are you crying about "Oh Canada" being played on US Soil during MLB or NHL games?
But hey we're Americans if we can't complain we might as well be dead then silent.
Just like the idiots on Twitter crying about "The Super Bowl will feature two openly Christian Quarterbacks… The Left is losing their minds over it?!"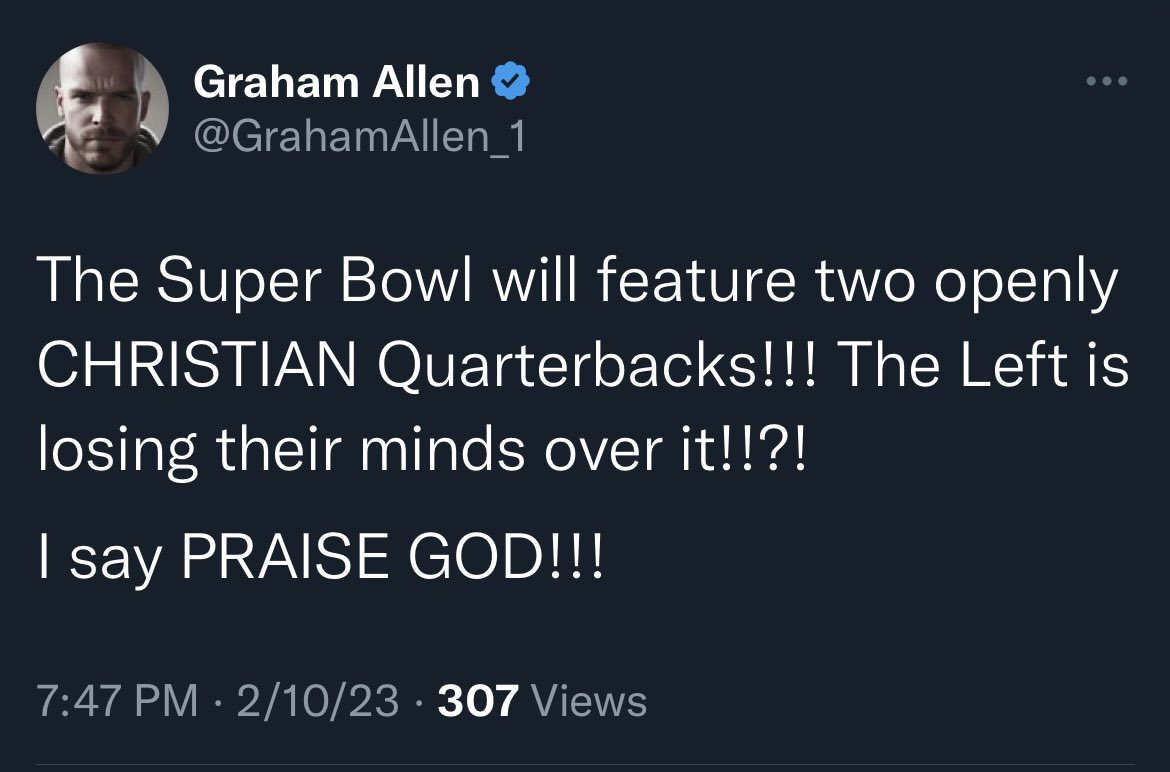 This is plain stupid as this guy as well as Lauren Broebert plagiarizing the tweet posting fake outrage over something possibly no one, i repeat, no one was even spilling milk over.
Yeah, we have the freedom of speech, but we also have the freedom of stupidity and runs wild in the good ol' USA.
What I'm shocked to see happen was outrage over the multiple Electric Vehicle ads from RAM, Jeep and of course GM/Will Ferrell.
Where are the posts and tweets of pushing the Liberal Agenda against coal and gas?
SILENCE
What's the comparison – 100 miles on electric compared to 1 gallon of gas? Well, that 1 gallon of gas is anywhere between 20-30 miles, that's pretty big.
Yeah, it sucks that it can take 30 minutes to 5 hours to charge that electric vehicle depending on the charging station, yet if you can travel further between charges or filling a gas tank, that's for you to decide.
And no, I'm not selling anyone on EV nor do I own one or plan to buy one however it's intriguing. Although I'm still on the Hybrid bench.
Oh and remember "American Made" doesn't equal "Made in the USA"
That's it, slap the tap, pass the stale peanut bowl and pay your tab.
CHEERS!