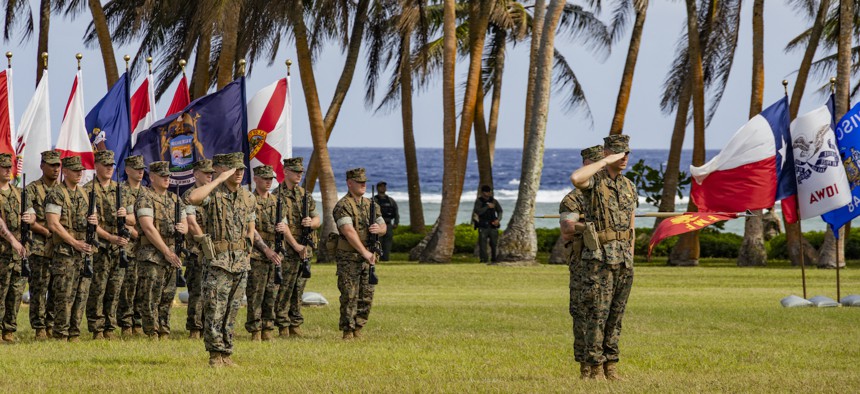 Marines Reactivate Guam Base to Boost Pacific Footprint – By Caitlyn M. Kenney (Defense One) / Jan 27, 2023
Camp Blaz will become a "strategic hub" and a joint and allied training center.
The Marine Corps has formally opened its first new base in 70 years: Guam's Camp Blaz, which is to become a "strategic hub" as the U.S. military expands its Pacific operations.
"Forward, persistent presence is key to the regional security and stability in the Indo-Pacific. Marine Corps Base Camp Blaz is a critical part of that," Marine Corps Commandant Gen. David Berger said at the ceremony.
The Corps "administratively activated" Camp Blaz on Oct. 1, 2020, but the COVID-19 pandemic delayed the ceremony, a service spokesman told Defense One. It was "reactivated" on Thursday, becoming the service's first newly constructed base in seven decades, a press release said.
The base "will serve as a strategic hub as the Department of Defense realizes the vision of the 2022 National Defense Strategy," the press release said. "The base's forward presence and engagement in the Pacific will play an essential role in strengthening the ability of the U.S. and its allies and partners for a collective defense and to promote regional security."
CONTINUE > https://www.defenseone.com/threats/2023/01/marines-reactivate-guam-base-boost-pacific-footprint/382332/