'The Sky Did Not Fall': McConnell Pulls Headlines From 1987 to Remind Democrats of Their Kennedy Predictions – By Madison Dibble (ijr.com) / July 10 2018
Win McNamee/Getty Images
When someone has been around as long as Senate Majority Leader Mitch McConnell (R-Ky.), they have seen every political trick in the book.
It makes sense that McConnell would recognize the attacks on President Donald Trump's Supreme Court nominee as the same attacks used on Justice Anthony Kennedy.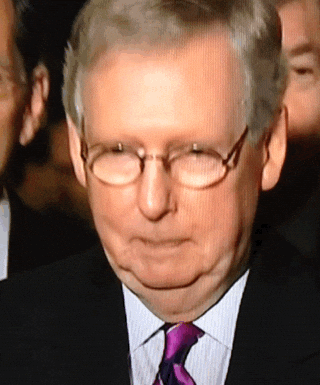 Some Democrats were attacking Judge Brett Kavanaugh before they even knew he was Trump's nominee. The attacks have been coming since the announcement that Kennedy would be retiring, with some even calling it "apocalyptic":
Supreme Court Justice Anthony Kennedy's retirement means that women's health, equal marriage, and civil rights are all at risk. This is the fight of our lives. pic.twitter.com/MQ8tWIrwYQ

— Elizabeth Warren (@elizabethforma) June 27, 2018
For every one wondering why Kennedy's retirement is particularly apocalyptic for many women, he was the swing vote on abortion cases & basically the biggest difference between keeping & losing Roe v Wade

Who wants to argue now about how close we are to Handmaid's Tale territory?

— Rebecca Ruiz (@rebecca_ruiz) June 27, 2018
But according to McConnell, some were making the same "apocalyptic" claims about Kennedy when former President Ronald Reagan nominated him:
"Sexist." "A disaster for women." "Totally unacceptable." These are just a few of the ad hominem attacks that far-left special interest groups hurled at a federal circuit court judge whom a Republican President nominated to the Supreme Court. The name of that federal judge? Anthony Kennedy. After President Reagan nominated then-Judge Kennedy to the Court in 1987, these far-left special interest groups impugned his character. They cooked up apocalyptic warnings about all the terrible things that would happen to Americans if he were confirmed to the Court. Of course, the American people didn't buy it. And a majority of senators saw through the hyperbole and hysteria and confirmed that qualified nominee. And, believe it or not, the sky did not fall.
Believe it or not, the sky did not fall. –> https://t.co/4ngra17tzT

— Leader McConnell (@SenateMajLdr) July 9, 2018
McConnell cited quotes from 1987, including one from the National Organization for Women that called Kennedy a "sexist" and a "disaster for women."
Flash-forward to 2018, and not much has changed within the National Organization for Women. It referred to Kavanaugh as an "extremist who will not protect women's rights":
Official @NationalNOW Statement by President @ToniVP: Stop #SCOTUS, Save Roe!: The Senate Must Refuse Nomination of Judge Brett #Kavanaugh: https://t.co/RBOFzFDSHH

CALL TO ACTION: Call the U.S. senate. Call your senators. Call the committee. Start @ (202) 224-3121 #RoeVWade pic.twitter.com/2p8fB83P5f

— National NOW (@NationalNOW) July 10, 2018
Even though McConnell assured the opposition that "the sky did not fall," it does not look like the unrest will die down anytime soon.
https://ijr.com/ijr-red/2018/07/1108696-mitch-mcconnell-dem-attacks-kennedy/