2002 – Operation Anaconda, the largest U.S.-led ground offensive since the Gulf War, ended in eastern Afghanistan. During the operation, which began on March 2, it was reported that at least 500 Taliban and al Qaeda fighters were killed. Eleven allied troops were killed during the same operation.
1279 – A Mongolian victory at the naval Battle of Yamen ends the Song Dynasty in China
1524 – Giovanni de Varrazano, a Florentine explorer in the service of King Francis I of France, lands around area of Carolinas
1571 – Spanish troops occupied Manila.
1628 – The Massachusetts colony was founded by Englishmen.
1644 – 200 members of the Peking imperial family/court committed suicide.
1687 – French explorer La Salle was murdered by his own men while searching for the mouth of the Mississippi River, in the Gulf of Mexico.
1702 – Upon the death of William III of Orange, Anne Stuart, the sister of Mary, succeeds to the throne of England, Scotland and Ireland.
1748 – The English Naturalization Act passed granting Jews right to colonize in the U.S.
1775 – Poland & Prussia signed a trade agreement.
1808 – Charles IV, king of Spain, abdicates after riots and a popular revolt at the winter palace Aranjuez. His son, Ferdinand VII, takes the throne
1831 – The first bank robbery in America was reported. The City Bank of New York City lost $245,000 in the robbery.
1866 – The immigrant ship Monarch of the Seas sank in Liverpool killing 738.
1879 – Jim Currie opened fire on the actors Maurice Barrymore and Ben Porter near Marshall, TX. The shots wounded Barrymore and killed Porter.
1900 – U.S. President McKinley asserted that there was a need for free trade with Puerto Rico.
1900 – Archeologist Arthur John Evans began the excavation of Knossos Palace in Greece.
1903 – The U.S. Senate ratified the Cuban treaty, gaining naval bases in Guantanamo and Bahia Honda.
1906 – Reports from Berlin estimated the cost of the German war in S.W. Africa at $150 million.
1908 – The state of Maryland barred Christian Scientists from practicing without medical diplomas.
1911 – The first International Women's Day is observed by over 1 million people in several European countries
1915 – Pluto was photographed for the first time. However, it was not known at the time.
1916 – The First Aero Squadron takes off from Columbus, NM to join Gen. John J. Pershing and his Punitive Expedition against Pancho Villa in Mexico.
1917 – The U.S. Supreme Court upheld the Adamson Act that made the eight-hour workday for railroads constitutional.
1918 – The U.S. Congress approved Daylight-Saving Time.
1920 – The U.S. Senate rejected the Versailles Treaty for the second time maintaining an isolation policy.
1924 – U.S. troops were rushed to Tegucigalpa as rebel forces took the Honduran capital.
1928 – "Amos & Andy" debuts on radio (NBC Blue Network-WMAQ Chicago)
1931 – The state of Nevada legalized gambling.
1935 – The British fire on 20,000 Muslims in India, killing 23.
1936 – The Soviet Union signs a pact of assistance with Mongolia against Japan.
1942 – FDR orders men between 45 & 64 to register for non-military duty
1945 – About 800 people were killed as Japanese kamikaze planes attacked the U.S. carrier Franklin off Japan.
1945 – Adolf Hitler issued his "Nero Decree" which ordered the destruction of German facilities that could fall into Allied hands as German forces were retreating.
1947 – Chiang Kai-Shek's government forces took control of Yenan, the former headquarters of the Chinese Communist Party.
1949 – The Soviet People's Council signed the constitution of the German Democratic Republic, and declared that the North Atlantic Treaty was merely a war weapon.
1963 – In Costa Rica, U.S. President John F. Kennedy and six Latin American presidents pledged to fight Communism.
1965 – Indonesia nationalized all foreign oil companies.
1965 – The wreck of the SS Georgiana, valued at over $50,000,000, said to have been most powerful Confederate cruiser, discovered by then teenage diver and pioneer underwater archaeologist E. Lee Spence exactly 102 years after its destruction.
1968 – Students at Howard University students seized an administration building.
1969 – British invaded Anguilla.
1972 – India and Bangladesh signed a friendship treaty.
1975 – Pennsylvania is 1st state to allow girls to compete with boys in HS sports
1977 – Congo President Marien Ngouabi was killed by a suicide commando.
1979 – The U.S. House of Representatives began broadcasting its daily business on TV.
1984 – A Mobile oil tanker spilled 200,000 gallons into the Columbia River.
1985 – The U.S. Senate voted to authorize production of the MX missile.
1987 – Televangelist Jim Bakker resigned from the PTL due to a scandal involving Jessica Hahn.
1988 – Two British soldiers were killed by mourners at a funeral in Belfast, North Ireland. The soldiers were shot to death after being dragged from a car and beaten.
1990 – Latvia's political opposition claimed victory in the republic's first free elections in 50 years.
1991 – Gorbachev says the Soviet Union will cut its oil exports by nearly half
1998 – The World Health Organization warned of tuberculosis epidemic that could kill 70 million people in next two decades.
1999 – 53 people were killed and dozens were injured when a bomb exploded in a market place in southern Russia.
2000 – Vector Data Systems conducted a simulation of the 1993 Branch Davidian siege in Waco, TX. The simulation showed that the government had not fired first.
2001 – California officials declared a power alert and ordered the first of two days of rolling blackouts.
2002 – Operation Anaconda, the largest U.S.-led ground offensive since the Gulf War, ended in eastern Afghanistan. During the operation, which began on March 2, it was reported that at least 500 Taliban and al Qaeda fighters were killed. Eleven allied troops were killed during the same operation.
2003 – U.S. President George W. Bush announced that U.S. forces had launched a strike against "targets of military opportunity" in Iraq. The attack, using cruise missiles and precision-guided bombs, were aimed at Iraqi leaders thought to be near Baghdad.
2008 – GRB 080319B: A cosmic burst that is the farthest object visible to the naked eye is briefly observed
2012 – Wendy's overtakes Burger King to become the second best-selling hamburger chain
2014 – Israel sends airforce against Syrian military units involved in an attack previous day on an Israeli patrol in the Golan Heights
2018 – Mississippi signs into law the US's strictest abortion laws, no termination after 15 weeks
2019 – "Superbloom" of poppies in Walker Canyon, southern California visible from space, after high rainfall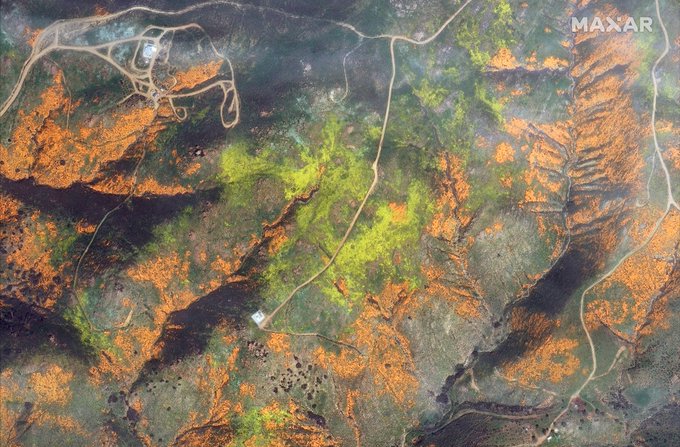 2019 – Kazakh President Nursultan Nazarbayev announces his resignation after nearly 30 years in office, the last soviet-era head of state
2021 – Icelandic volcano Fagradalsfjall erupts for the first time in 800 years and after more than 50,000 earthquakes
REFERENCE: history.net, onthisday.com, thepeopleshistory.com, timeanddate.com, scopesys.com, on-this-day.com