1963 – U.S. President Kennedy was assassinated while riding in a motorcade in Dallas, TX. Texas Governor John B. Connally was also seriously wounded. Vice-President Lyndon B. Johnson was inaugurated as the 36th U.S. President.
845 – First King of all Brittany, Nominoe defeats Frankish King Charles the Bald at the Battle of Ballon, near Redon
1220 – Frederick II crowned Holy Roman Emperor in Rome by Pope Honorius III
1492 – Pinta under Martín Alonso Pinzón separates from Christopher Columbus's fleet
1542 – Spain delegates "New Laws" against slavery in America
1595 – English fleet led by Francis Drake and John Hawkins unsuccessfully attack San Juan, Puerto Rico during the Anglo-Spanish War
1699 – A treaty was signed by Denmark, Russia, Saxony and Poland for the partitioning of the Swedish Empire.
1718 – English pirate Edward Teach (a.k.a. "Blackbeard") was killed during a battle off the coast of North Carolina. British soldiers cornered him aboard his ship and killed him. He was shot and stabbed more than 25 times.
1794 – Strasbourg Alsace-Lorraine, prohibits circumcision and wearing of beards
1842 – Mount St Helens in Washington erupts
1900 – Paul Kruger, exiled President of the Boer Republic of South Africa, is given a popular welcome when he lands at Marseilles, France
1906 – Peter Stolypin, Prime Minister of Russia, introduces agrarian reforms allowing peasants to withdraw from the communes and take their share of land for private ownership
1918 – Polish forces attack Jewish community of Lemberg (Lvov)
1923 – Calvin Coolidge pardons WW I German spy Lothar Witzke, sentenced to death
1924 – Britain orders Egyptians out of Sudan
1930 – Elijah Muhammad forms Nation of Islam in Detroit
1935 – The first trans-Pacific airmail flight began in Alameda, CA, when the flying boat known as the China Clipper left for Manila. The craft was carrying over 110,000 pieces of mail.
1939 – Bugsy Siegel, Whitey Krakower, Frankie Carbo and Albert Tannenbaum kill Harry "Big Greenie" Greenberg outside his apartment after Greenberg had threatened to become a police informant
1942 – During World War II, the Battle of Stalingrad began.
1943 – U.S. President Franklin Roosevelt, British Prime Minister Winston Churchill and Chinese leader Chiang Kai-shek met in Cairo to discuss the measures for defeating Japan.
1963 – U.S. President Kennedy was assassinated while riding in a motorcade in Dallas, TX. Texas Governor John B. Connally was also seriously wounded. Vice-President Lyndon B. Johnson was inaugurated as the 36th U.S. President.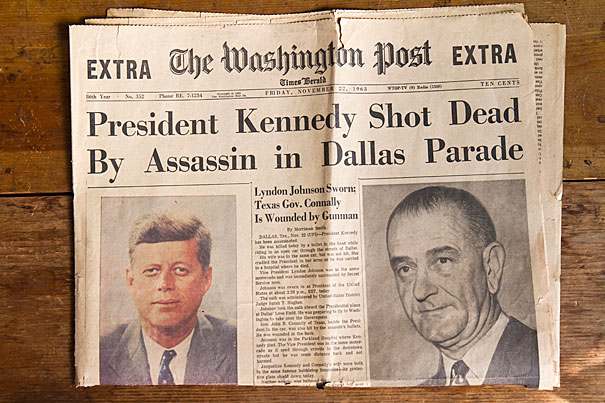 1963 – Lyndon B. Johnson sworn in as the 36th US President after the assassination of President John F. Kennedy
1965 – "Miss Goodall and the Wild Chimpanzees" broadcast on CBS, watched by 25 million, brings Jane Goodall to international attention
1967 – The U.N. Security Council approved resolution 242. The resolution called for Israel to withdraw from territories it had captured in 1967 and called on adversaries to recognize Israel's right to exist.
1968 – 1st interracial TV kiss (Star Trek – Captain Kirk and Uhura)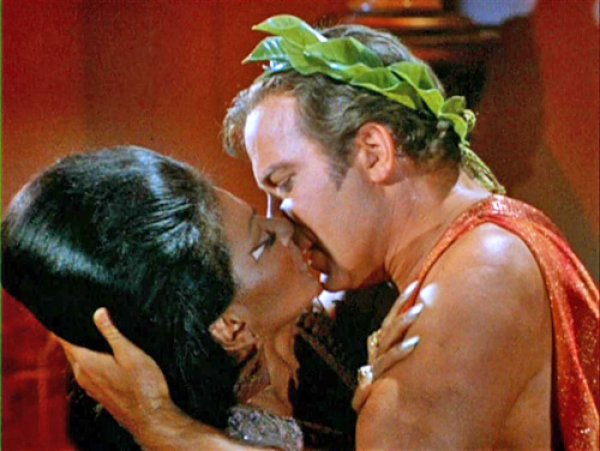 1972 – U.S. President Richard M. Nixon lifted a ban on American travel to Cuba. The ban had been put in place on February 8, 1963.
1974 – The U.N. General Assembly gave the Palestine Liberation Organization observer status.
1975 – Drummuckavall Ambush: 3 British Army soldiers are killed and one captured when the Provisional Irish Republican Army attack a watchtower in South Armagh, North Ireland
1977 – Regular passenger service on the Concorde began between New York and Europe.
1980 – Georgia tanker at Pilottown Louisiana, spills 1.3 million gallons of oil after an anchor chain causes a ship to leak
1984 – Fred Rogers of PBS' "Mr. Rogers' Neighborhood" presented a sweater to the Smithsonian Institution.
1985 – Anne Henderson-Pollard was taken into custody a day after her husband Jonathon Jay Pollard was arrested for spying for Israel.
1985 – 38,648 immigrants became citizens of the United States. It was the largest swearing-in ceremony.
1986 – Attorney Generel Meese's office discovered a memo in Colonel Oliver North's office that included an amount of money to be sent to the Contras from the profits of weapons sales to Iran.
1988 – The South African government announced it had joined Cuba and Angola in endorsing a plan to remove Cuban troops from Angola.
1989 – Rene Moawad, the president of Lebanon, was assassinated less than three weeks after taking office by a bomb that exploded next to his motorcade in West Beirut.
1989 – Conjunction of Venus, Mars, Uranus, Neptune, Saturn, and the Moon
1990 – U.S. President George H.W. Bush, his wife, Barbara, and other congressional leaders shared Thanksgiving dinner with U.S. troops in Saudi Arabia.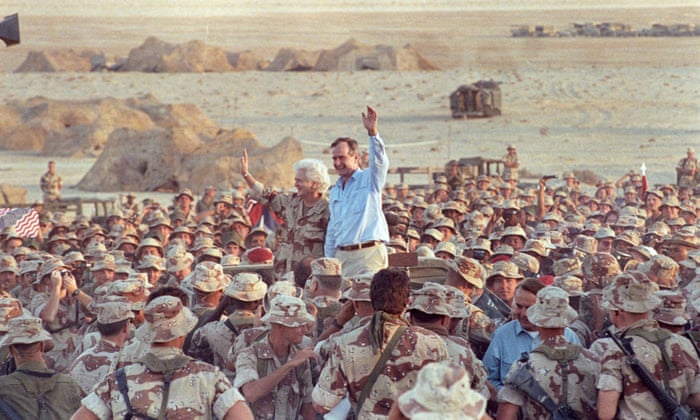 1990 – British Prime Minister Margaret Thatcher announced she would resign.
1993 – Mexico's Senate overwhelmingly approved the North American Free Trade Agreement.
1994 – Inside the District of Columbia's police headquarters a gunman opened fire. Two FBI agents, a city detective and the gunman were killed in the gun battle.
1994 – In northwest Bosnia, Serb fighters set villages on fire in response to a retaliatory air strikes by NATO.
1998 – CBS's "60 Minutes" aired a tape of Jack Kevorkian giving lethal drugs in an assisted suicide of a terminally ill patient. Kevorkian was later sentenced to 25 years in prison for second-degree murder.
2002 – In Nigeria, more than 100 people are killed at an attack aimed at the contestants of the Miss World contest
2003 – In Tbilisi, Georgia, opponents of President Eduard Shevardnadze seize the parliament building and demand the president's resignation
2004 – Orange Revolution begins in Ukraine, The revolution began after an election that was marred by widespread rumors of corruption and fraud. The protests resulted in electoral reforms in the country and November 22 was declared a Day of Freedom in 2005. The holiday was then moved to January 22 in 2011.
2005 – Angela Merkel was elected as Germany's first female chancellor.
2012 – 6 attacks across Pakistan kill 37 people and injure 92
2013 – The discovery of Siats meekerorum was announced. The dinosaur skeleton, more than 30 feet long, was found in eastern Utah.
2014 – Tamir Rice, a 12-year-old boy, is shot dead by police in Cleveland, after brandishing what turned out to be a fake gun in a playground
2016 – The Dow Jones Industrial Average closed above 19,000 for the first time in its 120-year history. It closed at 19,023.87 for the day.
2017 – Ratko Mladic the "Butcher of Bosnia" is convicted of genocide and other atrocities during the Bosnian war and jailed for life in The Hague
2020 – Ethiopian Prime Minister Abiy Ahmed gives Tigrayan forces 72 hours to surrender before the military begins offensive on regional capital of Mekelle
REFERENCE: history.net, onthisday.com, thepeopleshistory.com, timeanddate.com, scopesys.com, on-this-day.com