1963 – Lee Harvey Oswald shot, Oswald had assassinated John F. Kennedy, the 35th American president, two days prior to being shot by Jack Ruby while being transported by the police. The murder was broadcasted live on TV.
1221 – Battle of the Indus: Genghis Khan's Mongol force defeats Shah Jalal ad-Din's army, last battle in Mongolian conquest of Khwarezmian Empire
1542 – Battle of Solway Moss: English beat Scottish King James V
1615 – French King Louis XIII married Ann of Austria. They were both 14 years old.
1639 – 1st observation of transit of Venus by Jeremiah Horrocks and William Crabtree – helped establish size of the Solar System
1642 – Dutch explorer Abel Tasman discovers Van Diemen's Land (Tasmania)
1655 – English Lord Protector Oliver Cromwell bans Anglicans
1775 – Continental Congress approves resolution barring blacks from army
1832 – South Carolina passes Ordinance of Nullification, declaring the tariffs of 1828 and 1832 unconstitutional in and unenforceable in South Carolina, precipitating the Nullification Crisis which presaged the American Civil War
1835 – Texas Rangers, mounted police force authorized by Texas Provisional Government
1859 – Charles Darwin, a British naturalist, published "On the Origin of Species." It was the paper in which he explained his theory of evolution through the process of natural selection.
1863 – During the Civil War, the battle for Lookout Mountain began in Tennessee.
1871 – The National Rifle Association was incorporated in the U.S.
1877 – Black Beauty is published
1896 – 1st US absentee voting law enacted by Vermont
1912 – Conflict in the Balkans grows into an acute international crisis with major powers supporting either Austria or Serbia
1916 – Mexican and US representatives sign a protocol at Atlantic City, under which Pershing's troops will withdraw and each nation's army will guard the border. President Carranza of Mexico will refuse to accept it
1917 – Nine police officers and one civilian are killed when a bomb explodes at the Milwaukee, Wisconsin police headquarters building.
1922 – Italian parliament gives Benito Mussolini dictatorial powers "for 1 year"
1932 – In Washington, D.C., the FBI Scientific Crime Detection Laboratory (better known as the FBI Crime Lab) officially opens.
1940 – Nazis closed off the Jewish ghetto in Warsaw, Poland. Over the next three years the population dropped from 350,000 to 70,000 due to starvation, disease and deportations to concentration camps.
1941 – "Life Certificates" issued to some Jews of Vilna, the rest are exterminated
1944 – During World War II, the first raid against the Japanese capital of Tokyo was made by land-based U.S. bombers.
1947 – The "Hollywood 10," were cited for contempt of Congress for refusing to answer questions about alleged Communist influence in their industry.
1954 – Air Force One, 1st US Presidential airplane, christened
1954 – France sends 20,000 soldiers to Algeria
1963 – Lee Harvey Oswald shot, Oswald had assassinated John F. Kennedy, the 35th American president, two days prior to being shot by Jack Ruby while being transported by the police. The murder was broadcasted live on TV.  https://www.history.com/this-day-in-history/jack-ruby-kills-lee-harvey-oswald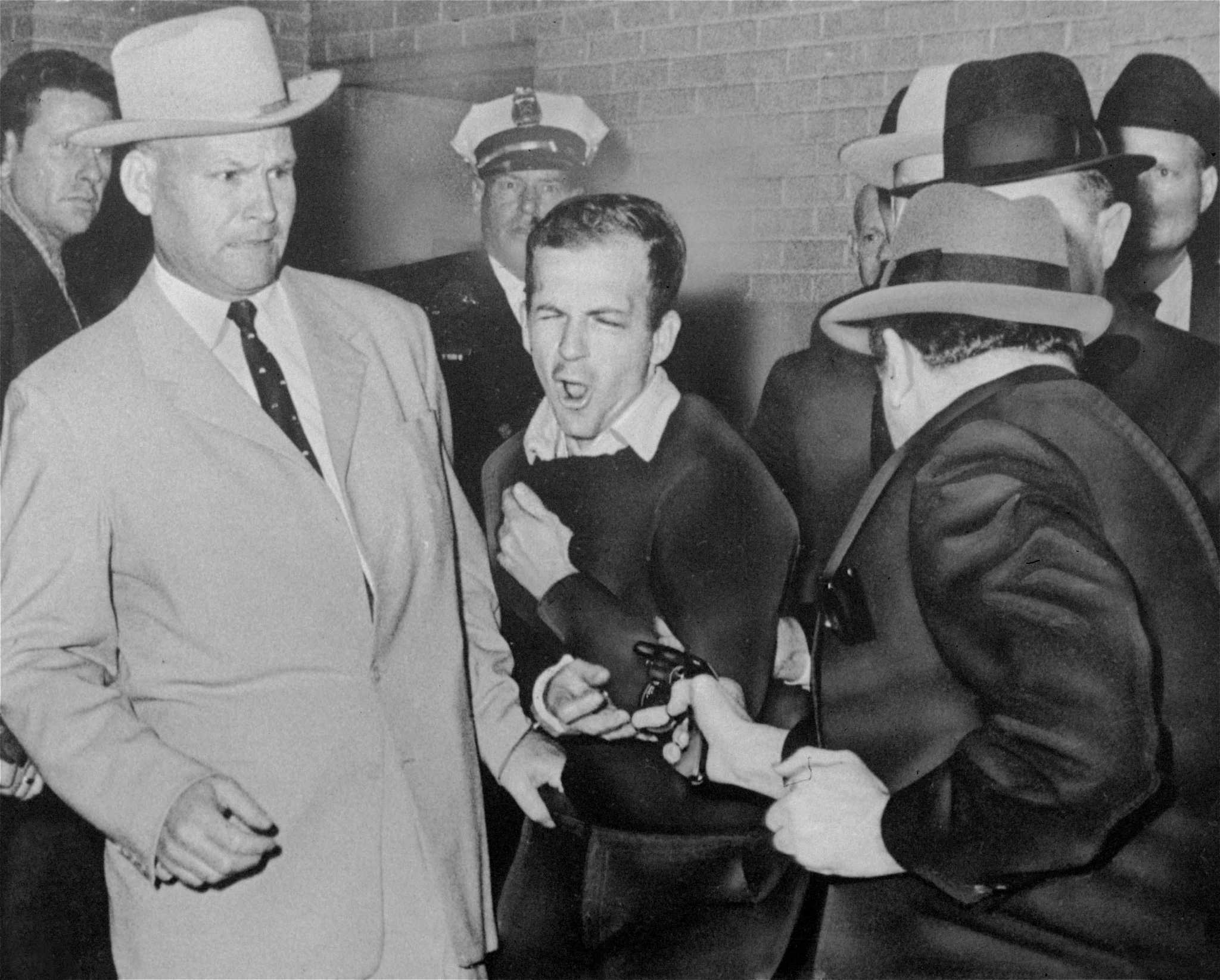 1966 – 400 die of respiratory failure & heart attacks in New York City smog, smoggiest day in city's history
1969 – Apollo 12 landed safely in the Pacific Ocean bringing an end to the second manned mission to the moon.
1971 – Hijacker Dan Cooper, known as D.B. Cooper, parachuted from a Northwest Airlines 727 over Washington state with $200,000 in ransom.
1974 – Gerald Ford and Leonid Brezhnev agree to a framework for the SALT-II treaty to reduce each side's number of nuclear weapons, at the Vladivostok Summit
1974 – Most complete early human skeleton (Lucy, Australopithecus) discovered by Donald Johanson, Maurice Taieb, Yves Coppens and Tim White in the Middle Awash of Ethiopia's Afar Depression
1979 – Senate report proves US troops in Vietnam were exposed to the toxic chemical defoliant Agent Orange
1983 – The Palestine Liberation Organization released six Israeli prisoners in exchange for the release of 4,500 Palestinians and Lebanese held by the Israelis.
1985 – In Malta, Egyptian commandos stormed an Egyptian jetliner. 60 people died in the raid.
1987 – The U.S. and the Soviet Union agreed to scrap short- and medium-range missiles. It was the first superpower treaty to eliminate an entire class of nuclear weapons.
1989 – Czechoslovakia's hard-line party leadership resigned after more than a week of protests against its policies.
1993 – The U.S. Congress gave its final approval to the Brady handgun control bill establishing 5-day waiting period for US handgun sales
1993 – Robert Thompson and Jon Venables (both 11 years old) were convicted of murdering 2-year-old James Bulger of Liverpool, England. They were both sentenced to "indefinite detention."
1995 – In Ireland, the voters narrowly approved a constitutional amendment legalizing divorce.
2012 – Gangnam Style becomes the most viewed Youtube video surpassing 808 million views
2012 – Fire breaks out in a clothing factory in Dhaka, Over 110 people were killed and about 200 people were injured at the Tazreen Fashion factory on the outskirts of Dhaka, Bangladesh. The tragedy brought to light poor working conditions of workers who made export clothing in Bangladesh. It also led to major labor reforms in the country and in the fashion world, which promised to take steps to ethically source their products.
2015 – Chicago police officer Jason Van Dyke is charged with first-degree murder of 17 year old African American Laquan McDonald in 2014
2015 – Tunisia declares state of emergency after an attack on a bus in Tunis carrying presidential guards kills at least 12
2017 – Militant gunmen attack a Sufi mosque in Bir al-Abed on the Sinai Peninsula, Egypt, killing 305 people, government retaliates bombing the area
2019 – Data leaked from Chinese high-security Muslim Uighur security camps, housing 1 million people, show systematic brainwashing in western Xinjiang region
2020 – Dow Jones Industrial Average closes above 30,000 points for the first time, after formal transition to Joe Biden administration begins
2020 – Scotland's parliament votes to become the first country to make period products free
2021 – Sweden's first female Prime Minister Magdalena Andersson resigns after 12 hours in the job after her coalition government falls apart
REFERENCE: history.net, onthisday.com, thepeopleshistory.com, timeanddate.com, scopesys.com, on-this-day.com